Vocabulary of body and voice
Le cycle Vocabulaire du Corps et de la Voix se propose d'aborder la question du spectacle non pas depuis un rapport à une narration ou à un texte mais comme un poème chorégraphique et sonore.
Chaque stage peut être suivi indépendamment des deux autres.
with Jean-François Favreau and/or Marie-Geneviève L'Her (Théâtre de l'Homme Ivre, Paris)
collaborateurs de l'Institut Grotowski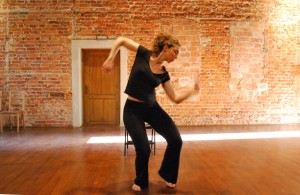 We will start from the two basic resources of the actor : voice, on one hand, as an individual or collective vibration (drones, polyphony, singing and speaking…), and, on the other hand, body, with a choreographic work based on physical scores.
Juxtaposing both in a common space, we will question the notions of musicality, rhythm, echo, and search how, at the intersection of vocal form and movement, a « theatre of vibration » can appear. For professional and non-professional actors, dancers and singers.
Open to : actors, dancers, singers, professionals and non-professionals.
---
Les dates
Du vendredi 24 au mardi 28 avril 2015
de 10h à 17h
Les tarifs
Tarif unique : 195€
Inscription avant le 10 avril : 145€
+ 15€ d'adhésion annuelle à l'association Passerelle des Arts